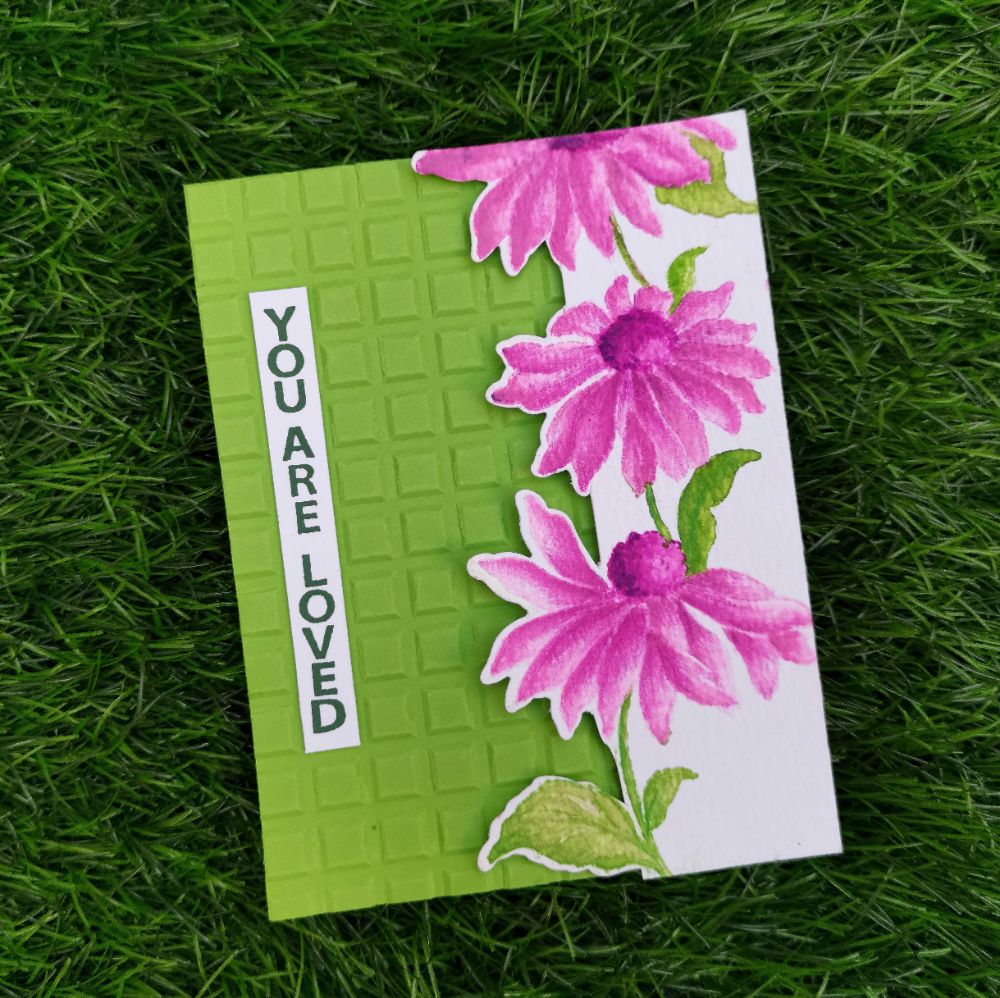 Hello Crafty Friends! Today I have a card I made for the Altenew Color Your Day class. This class is taught by Therese Calvird and is a must take class. A bit of color can brighten up anyone's day! She presented how to add splash of colors to our projects with this fun class filled with fresh inspirations, tips, and techniques perfectly. It really made me think about composition more when creating. Combining colors together can be daunting so it's time to take the guess work out of it and one of the easiest ways to do that is to use a Color Wheel. These handy little tools can take your color combinations to the next level!
To begin with, I selected the color pink from the color wheel, and choose it's complementary color green.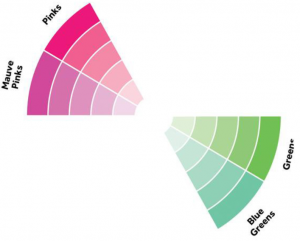 INSTRUCTIONS
Take a White watercolor Cardstock measuring "4 1/4 x 5 1/2 "
Stamp the flower from Build a flower- Coneflower stamp set on it with antique linen distress ink.
Mask and stamp other flowers and leaves according to your design
Put your ink pads on a watercolor palate and use a water color brush to color your flowers and leaves.
Position the coordinating dies over the flowers and do partial die cut.
Take a lime green 4 1/4 x 5 1/2 cardstock and place it in between the embossing folder
Keep the paper on one side and Spray the opposite side of the folder with water and close the folder and run it through the die cutting machine.
Stick the painted floral cardstock over green cardstock paper with double sided tape
Stamp the sentiment on a white strip of cardstock and stick it over the green cardstock
TIPS
Put your inkpads to another use by using them as paints! This is a great way to color in stamped images, creating perfectly matched colors
Before stamping, use an Anti-Static Pouch tool to remove static from your paper so the powder doesn't stick where you don't want it.
A water brush (with an empty barrel) or a fine-tip paint brush both work beautifully for this technique.
If you don't have a water color palette, you may use a craft sheet as a palette for your inkpads. If you don't have one, a plastic page protector can also do the trick
SUPPLIES
Antique linen distress Ink
Rose quartz Crisp Dye Ink
Pluffy heart Crisp Dye Ink
Purple wine Crisp Dye Ink
Cosmic berry Crisp Dye Ink
Firefly Crisp Dye Ink
Grass field Crisp Dye Ink
Shadow creek Crisp Dye Ink
Mountain pine Crisp Dye Ink
Build a flower- Coneflower stamp and die set
Hello hydrangea stamp set
Rows of squares 3d embossing folder
This was one of my favorite class from AECP. I always find it difficult to choose my color combination. And taking this class made me more excited. So I choose this class for our AECP Instagram hope. I came out of our comfort zone and made my first video tutorial with it.
Thank You!
Hope you liked my cards. Have a wonderful day and I hope to see you all soon with another project from AECP. Until then happy stamping and thanks for stopping by! If you like what you've seen from me, please give me a follow over on my Instagram (@shahicreationz) and/or subscribing to my vlog and YouTube if you haven't already.
-shahi