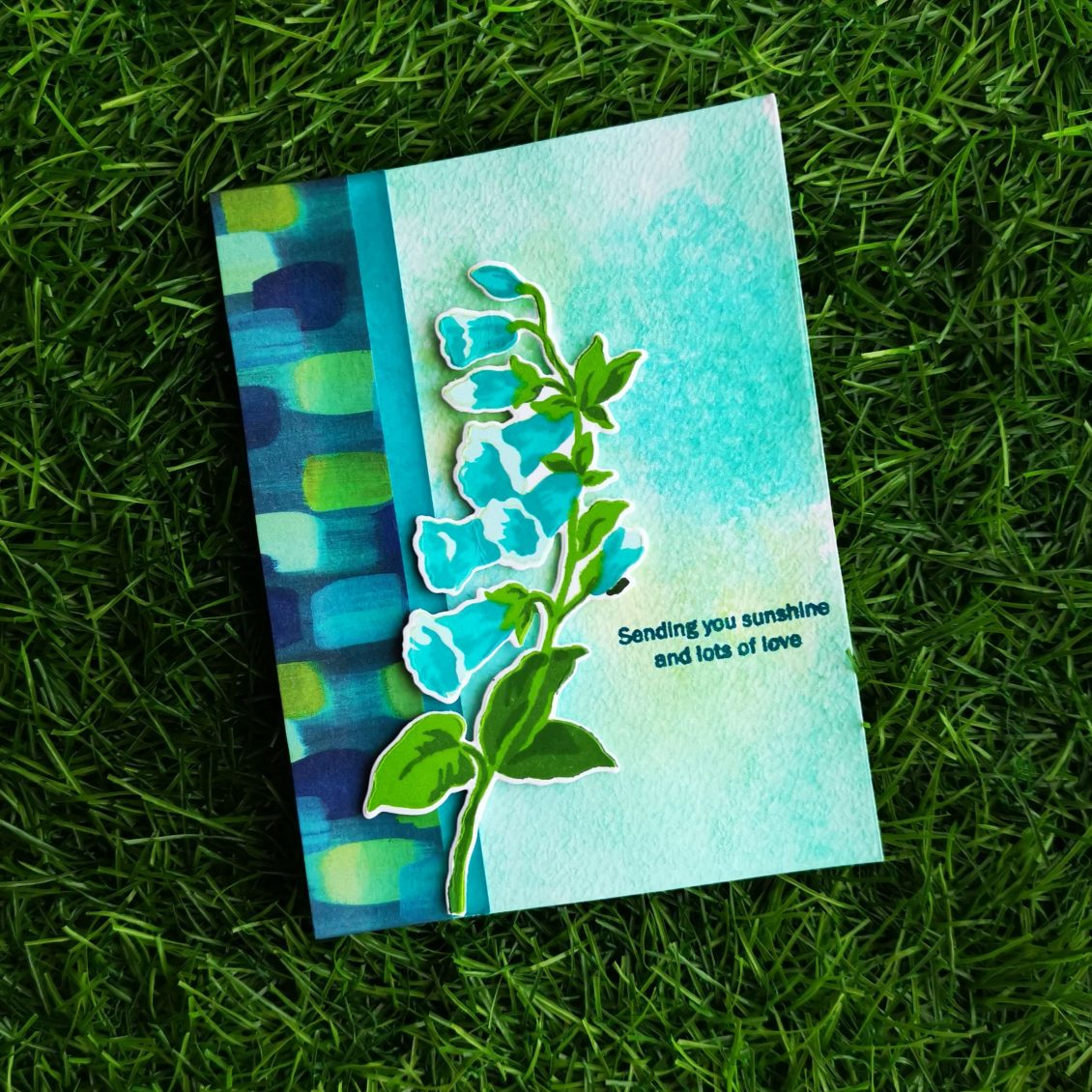 My next take is on the aecp lesson, Creative Watercolor Media. This class helps us in giving your coloring supplies a new life! In this class, you will learn to take inks, re-inkers, and sprays and turn them into fun watercolor mediums! This is great for any crafter, new and seasoned, to enjoy more use out of their existing Altenew supplies. Here, Jennifer Rzasa, Debby Hughes, and Laura Bassen have really done a great job by explaining us the things in detail. With such a line up of teachers you can imagine the quality of the class!

INSTRUCTIONS
Take a Classic Crest Solar White Cardstock and stamp the Canterbury Bells on it with sweet dreams and green valley crisp dye ink set.
Die cut it with the coordinating die set from Altenew.
Take a strip of Classic Crest Solar White Cardstock and ink blend it with Teal Cave crisp dye ink
Stick the washi tap towards the right corner, and trim the cardstock leaving a thin strip of color border near the washi tape.
Create a "4 1/4 x 5 1/2 " card base from Classic Crest Solar White Cardstock.
Put down the lightest shade of sweet dreams and green valley crisp dye ink set on to some cellophane or on Altenew water color palette , then sprayed with water and smooshed on to the paper
Once the card was thoroughly dry, stick the strip of cardstock with washi tape over it aligning it towards the left side of the card.
Stick the Canterbury Bells over it. with some sticky dots.
Stamp the sentiment with the darkest color from sweet dreams crisp dye ink set .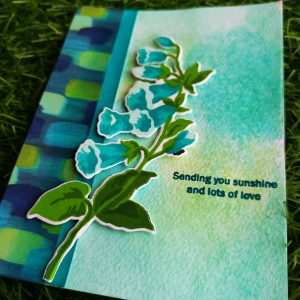 TIPS
Use a stamping tool to stamp your florals. It makes stamping large solid images so much easier since you can double and triple stamp. the included bar magnet can be used to quickly and easily position your cardstock, and the included grid paper makes it easy for you to lay out and align your card's design.
Before stamping, use an Anti-Static Pouch tool to remove static from your paper so the powder doesn't stick where you don't want it.
When doing stamp layering, start with the lightest ink color first and then build up to the darkest.
SUPPLIES
Sizzix Bigshot die cutting Machine
Neenah Paper 4456 Neenah 110lb Classic Crest Cardstock
Misti stamping tool
Teal cave Crisp dye ink
Grass Field Crisp dye ink
Green valley Crisp dye ink (set)
Sweet dreams Crisp dye ink (set)
Build a flower- Canterbury Bells
Enjoy the Ride Washi Tape Set
Thank You!
Hope you liked my card. Have a wonderful day and I hope to see you all soon with another project from AECP. Until then happy stamping and thanks for stopping by! If you like what you've seen from me, please give me a follow over on my Instagram (@shahicreationz) and/or subscribing to my vlog and YouTube if you haven't already.
-shahi