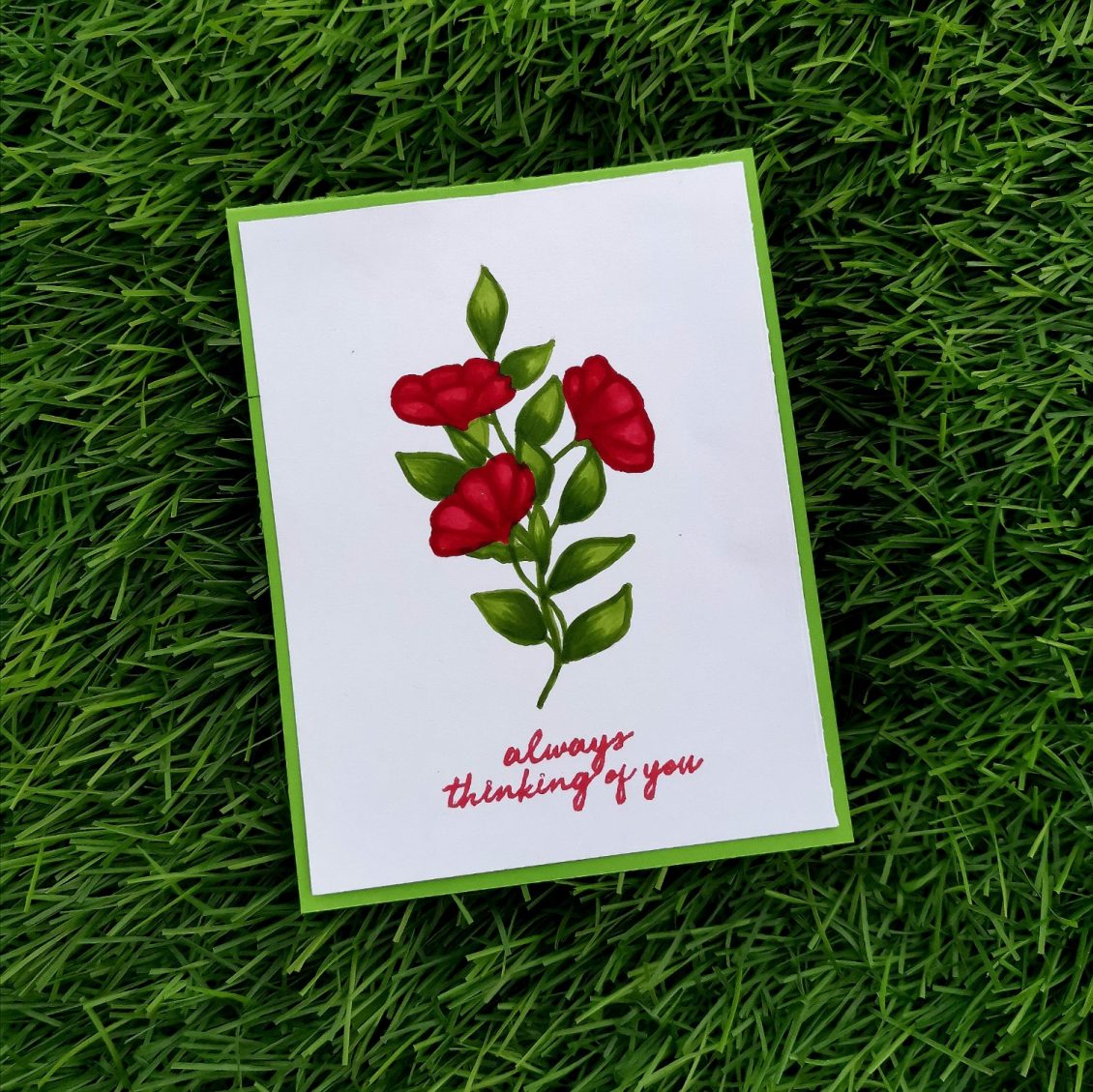 Alhamdulilah, finally I have reached out to my last assignment of level 1 at the altenew educator certification program. Fingers are crossed for the final project now. Like most of my fellow cardmakers, I always tend to make a feminine greeting card. It's really rare that I make cards for the guys.
But today I have 2 reasons to make one. First of all, recently I attended a course," for the guys" at the altenew academy. And I was looking for ideas to make a card with this theme. Secondly, I had a small fight with my hubby, and I think this is the best way to sort it out than sitting around a table talking for hours and finally reaching nowhere. Due to the current lockdown situation, I couldn't go out shopping to get him some flowers. So I decided to inculcate all of this into my card.
As usual, I trimmed a Neenah classic crest solar white cardstock into 4 * 5 1 /4. I stamped a flower from Simon Says Stamp Exclusive 6×8 Stronger Together clear stamp set on the center of my card. As I wanted to give a try on the no borderline coloring, I stamped it with very pale distress ink from Rangers.
I colored the green leafy parts of it with the forest glades artistic marker from Altenew. For the red, I choose Ruby red artistic markers. The same markers were used throughout the making of the card. In order to get the darker shade of the same color, I colored over it again in certain areas of the flower. I gave an outline to the flower with the fine tip of my artistic markers.
I choose a sentiment from the versatile vases from Altenew and stamped it with Ruby Red crisp die ink. It was stamped towards the lower center of the card, just below the flower. To get a finished look, I trimmed a green cardstock paper into 4 1/4*5 1/2 sized cardstock and stuck it behind my white cardstock.
I gave it to him when he was back from the office. I was really delighted to see his reaction. Everything was worth the effort and time I took for making it. He said he loved it so much and would cherish it forever. Especially the sentiment, It made him realize that he was still on my thoughts even if we had a tough time. I don't know if this could be considered as a masculine card, but I'm glad that it fulfilled my purpose.
I hope this method of making a simple Masculine card will turn out to be a inspiration for you too. Do give it a try to learn this course at https://altenew.com/products/for-the-guys. I hope to see you all soon with another project from AECP. Until then happy stamping and thanks for stopping by!
-shahi