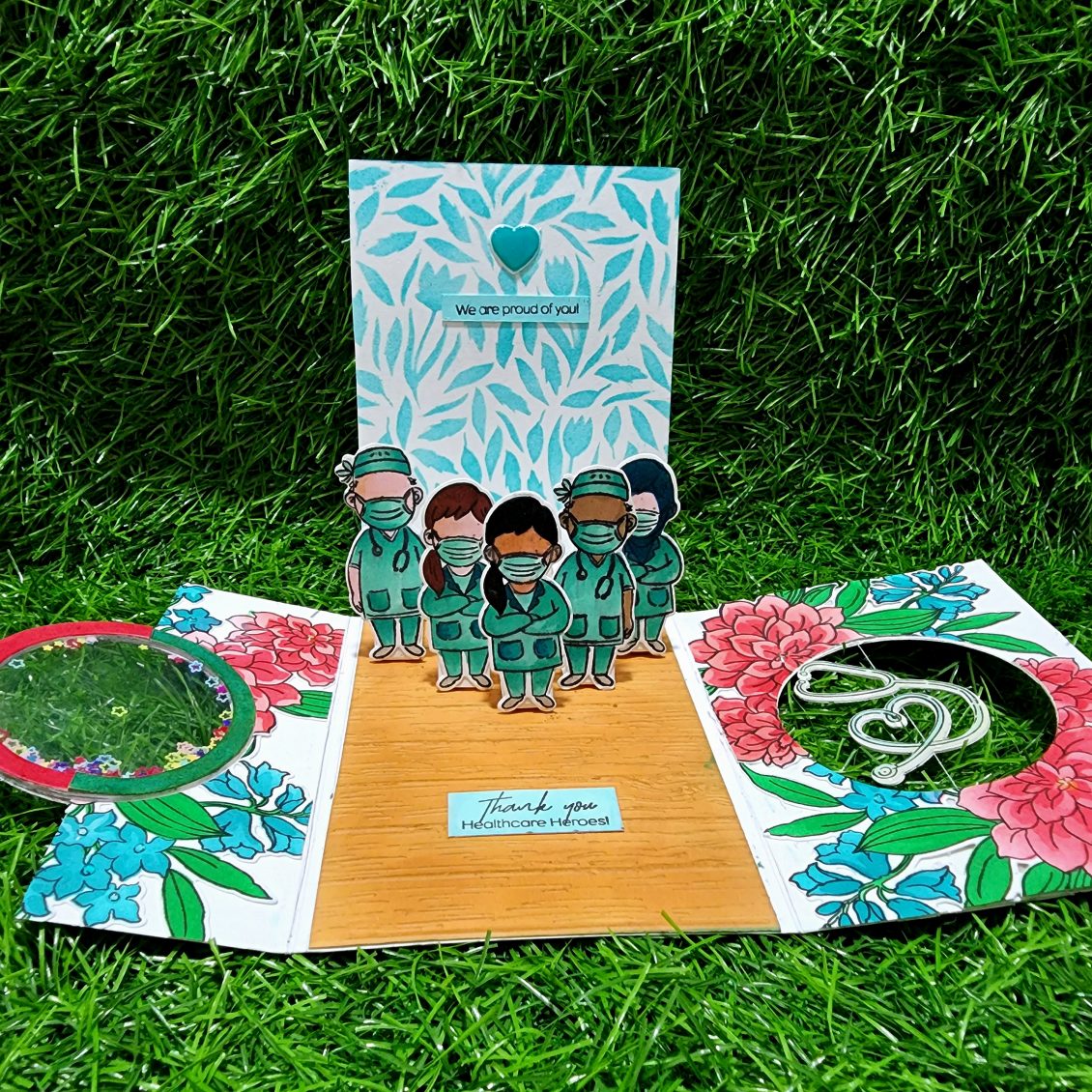 Finally, I'm here with my 5th class of level 3. Ashley Tucker has named it as "Cards in Motion" This class is filled with wonderful inspirations and ideas, cool tips, and tricks on how to create various interactive cards to boost your creativity . Grab a chair because this is going to be a huge one. I can definitely say that this is the most interactive and time consuming project I have done for a class. Those who know me, knows that I am in love with interactive cards. This is going to be my last Class. Next step is the Ultimate one. Final Challenge, Live session. So I'm very much excited for the card. Today I'm going to follow LESSON 7 – Combination of All Lessons . Here, I'm trying to inculcate 3 interactive features on this card. They are, Shaker element, pop up feature and String Spinner. So let's get started.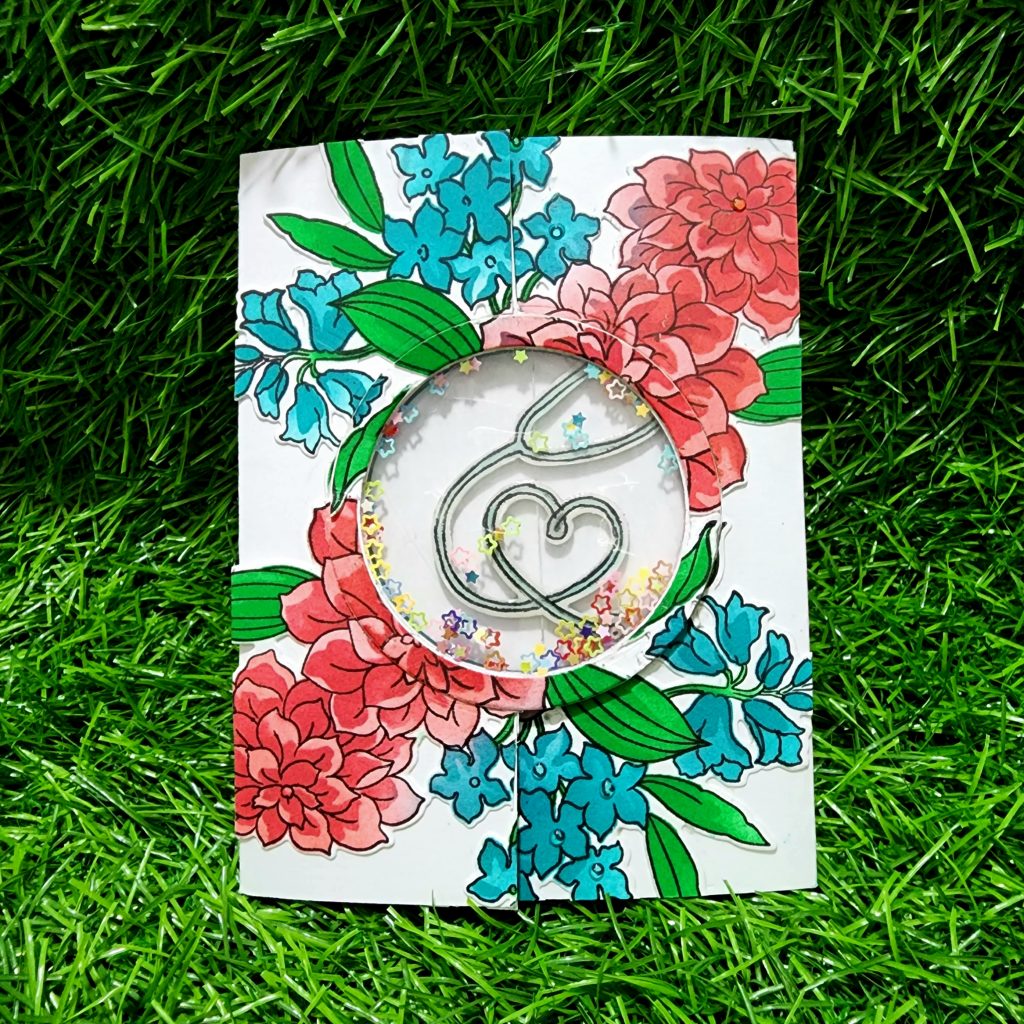 INSTRUCTIONS
Take a 5 ½" x 10 ¾" cardstock. Score at 2 ⅛" and fold. Flip the cardstock over with the folded edge on the left-hand side, score at 4 ¼", and flip the cardstock again. Then, fold along the scored line.
When you try to fold, it won't fold over the cardstock, so mark and trim off the excess cardstock from the half panel. You will end up with the card base.
Take two dies from the Halftone Circles Die Set, secure them together, onto the card front with the half flap, and run it through the die cutting machine.
Remove the die from the half panel, close the panel, and place the die right back into the circle you just cut, but this time, secure the die to the panel underneath the flap. Very carefully, pull out the half panel and open up the card base. Run this through the die cutting machine.
Die cut a piece of acetate using the larger of the circle dies.
Apply liquid adhesive at the back of the frame, and adhere a piece of acetate to it.
Now, double the layer of your foam tape, and adhere it to the back of the circle frame.
Put some sequins onto the stamped panel.
Adhere the frame over it, and you have your shaker piece
Place a acetate sheet, facing down in your stamp positioner where your cardstock normally goes.
Now, stamp on it the image of the stethoscope from Healthcare heroes stamp set in Permanent Black Crisp Ink. Stamp a few times till you get a good crisp image.
Place a cardstock over this, and press it a bit so that the image from the stamp transfers onto it. This is how you can get a mirror image of your stamp.
Now stamp another stethoscope but this time directly on the cardstock in Permanent Black Crisp Ink
Use Artist Marker, B802 to color the stethoscope
Once done, die cut the normal stamped image, flip it over, and then use any light source to place the mirror stamped image on it, and then fussy cut it out.
To make your spinner element on the panel with the circle cut-out, adhere a thread with tape right above and below the die-cut; make sure this is taut. To make it last, pull the string back over on itself, and add another tape over it. Repeat with the other side, as well .
Adhere the stethoscope images together with the thread in between to complete the spinner.
To create better dimension apply nuvo crystal glaze over it.,
Make a 5 ¼" x 4" top folding card ,Trace out the shape and size of the circle from the spinner element and mask it using a masking paper.
Place Spring Garden Stencil over card base and mask outlines with masking tape.
Take some embossing paste on the watercolor palette and add few drops of Aqualicious Alcohol Ink and blend it well
Apply the paste on the cardstock over the stencil.
Wait until the paste dries , blend Aqualicious Crisp Dye ink over it
Remove the masking.
Open the card, and Place Spring Garden Stencil over the top part of the card base and mask outlines with masking tape.
Blend over with Aqualicious Crisp Dye ink
Trim out a piece of 5 ¼ x 4 and blend Paper bag Crisp dye ink over it and run it through the die cutting machine placing it in between Deck Planks Embossing Folder
Grab a piece of cardstock and stamp 5 doctors with Healthcare heroes stamp on the cardstock with jet black ink 
Color them with artist markers. You may make small changes to make the doctors look like from different ethnicities.
Take 5 piece of strip of half inch width.
Score two of them at 1/2 , 2 1/2 , 3,5 1/2 and 6
Take another 2 strips and score them at 1/2, 3, 3 1/2, 6 and 6 1/2
Take the last strip and score it at 1/2, 3 1/2, 4, 7 1/2 and 8
Trim the ends and adheres the overlapping flaps to form a rectangular shape.
Adhere it to the base of the card in order and close the card. Once its fully stuck, stick the die cut of the doctors .
Add sentiment strips to the card.
Color the cardstock with Artistic marker and stamp the sentiment from the same stamp set with Black artistic marker.
U may use small die cuts or stamps as embellishments.
Just stamp the image and die cut it. Add nuvo crystal glaze or nuvo crystal drops to create dimension to it.
Adhere the completed 5 ¼" x 4" top folding card to the middle section on the inside of the card.
Take a classic crest white card stock and stamp the main flower from Build a Garden: Dear Dahlias set using jet black ink
Place its coordinating Stencil over card base and secure it with tape.
Add patterns to your project by ink blending with, Paper bag Crisp dye ink, Aqualicious Crisp Dye ink , Vineyard Crisp Dye ink , Just Green and Crisp Dye ink Coral Bliss Crisp Dye ink .
Gently pull the stencil off from the project area to see the result
Using the coordinating dies, die cut 4 bunch of flowers.
Position it over the card and trace out the circle part.
Place the circle nesting dies and cut out the circle part
Stick the remaining part of the flower to your main card base.
Make sure that you have sufficient flowers for the inside part of the card too.
Thus your interactive card is ready you may use nuvo drops to create droplets over the flowers.
SUPPLIES
Neenah classic crest white card stock
Misti stamping tool
Sizzix big shot die cutting machine
Guillotine Paper Trimmer
Glue stick
Scissors
Masking paper
Double sided foam tape
Nuvo crystal glaze
Nuvo Crystal Drops
Glittering Star
Aqualicious Alcohol ink
Spring garden stencil
Healthcare heroes stamp and die set
Build a Garden: Dear Dahlias bundle set
Fine liner pen
Acetate sheet
Paper bag Crisp dye ink
Jet black crisp dye ink
Aqualicious Crisp Dye ink
Vineyard Crisp Dye ink
Coral Bliss Crisp Dye ink
Just Green Crisp Dye ink
Jet black Artistic Marker
Mountain Mist Artistic Marker
Volcano Lake Artistic Marker
Emerald Artistic Marker
Peach Perfect Artistic Marker
Ruby Red Artistic Marker
Rocky Shore Artistic Marker
Mocha Artistic Marker
Dark Chocolate Artistic Marker
Limestone Artistic Marker
Lagoon Artistic Mar sssssssssker
Morning Frost Artistic Marker
Galactic Stream Artistic Marker
Sea glass Artistic Marker
Volcano lake Artistic Marker
Blush Artistic Marker
Deck Planks Embossing Folder
Circle Nesting Die
Score Board
Bone Folder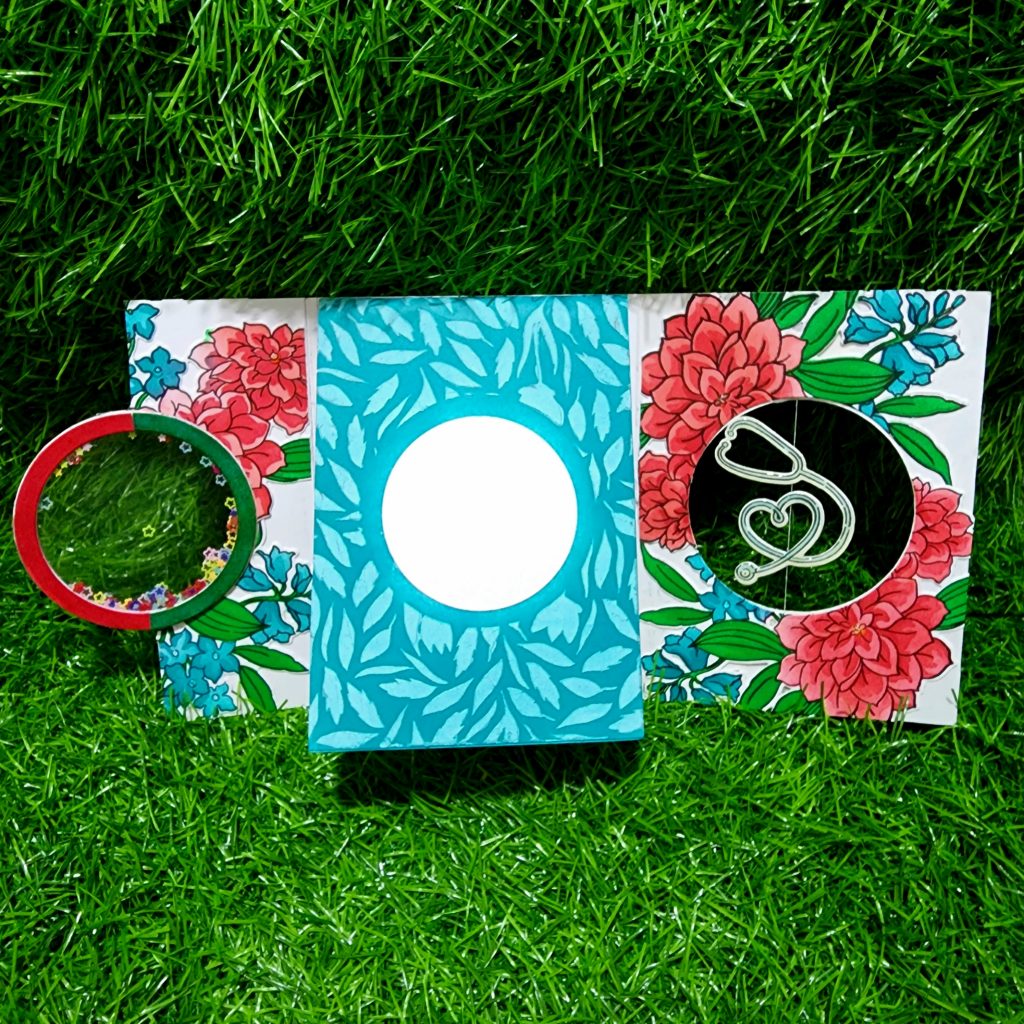 Thank You!
Hope you liked my card. Have a wonderful day and I hope to see you all soon with another project from AECP. Until then happy stamping and thanks for stopping by! If you like what you've seen from me, please give me a follow over on my Instagram (@shahicreationz) and/or subscribing to my vlog and YouTube if you haven't already.
-shahi