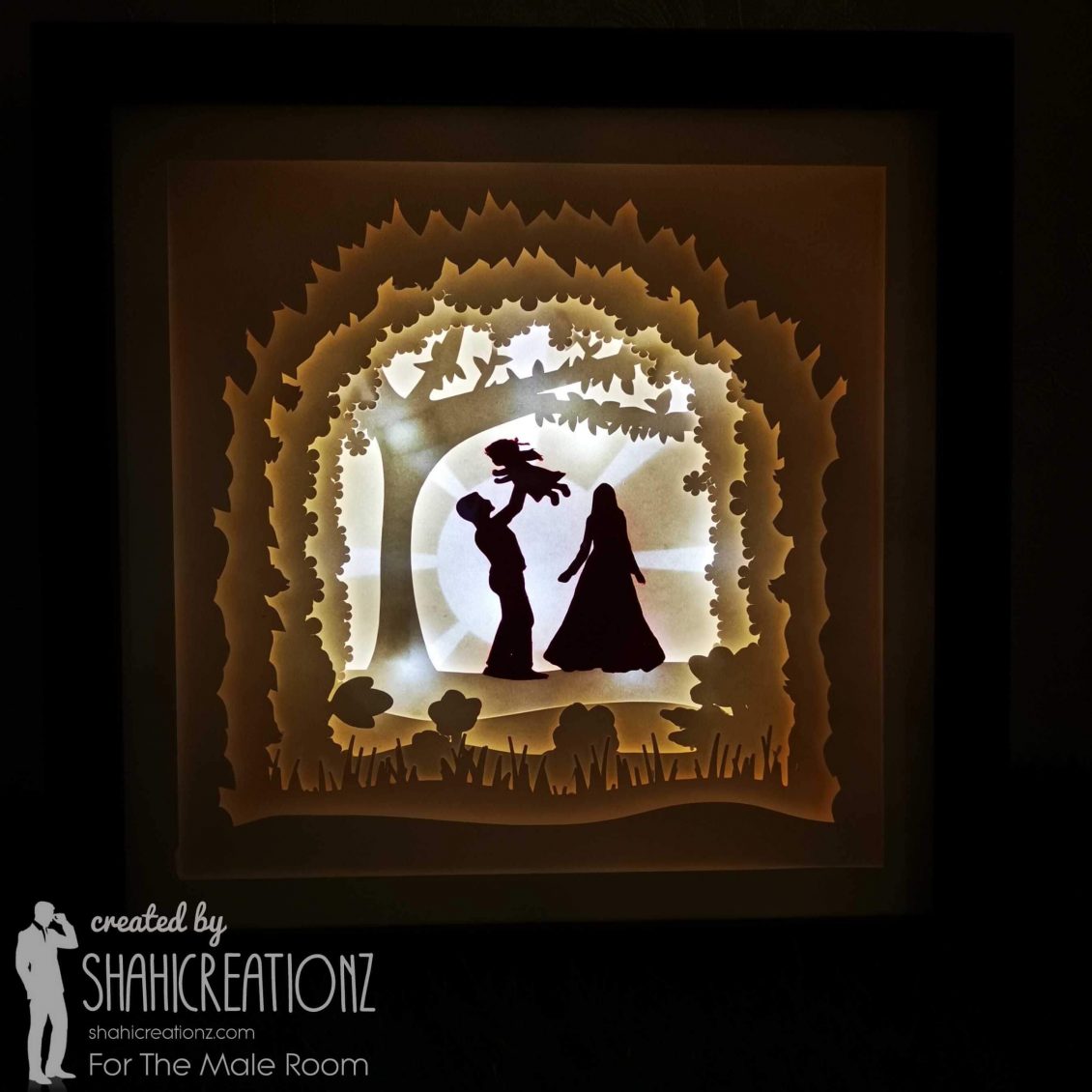 A new month and therefore a new task to begin with. For The Male room challenge, this month we have an interesting task ahead of us., But this month we're shaking things up a bit and asking you to forget about cards and show us your creativity in a different way. So scrapbook layouts, tags, art journal pages, 3D, ATCs will be the order of the day. Inspired by the artist, Jennifer Maker and her beautiful artwork I decided to create a 3D paper cut light box this month.
A lightbox can be used as a wonderful home décor, or a unique birthday or wedding gift. You can mount it on a wall, or place it on a desk and enjoy its charming beauty. Basically, this light box consists of paper cut outs layered on each other in a box with a glass panel. LED lights are placed behind all the layers, which makes each layer glow, giving this 3D look.
After referring to Jenifer Maker's videos , I created my custom design for this light box on Cricut space. And cut them I using 130 grams white card stock, because it's stiff enough to stand up and thin enough to let the light pass through. The layers are reassembled with foam spacers in between each one. This gives the image the appearance of depth and creates a 3D effect. It was placed inside a shadow box frame sized 9*9 .
If you put your custom shadow box design in a display frame, you can add LED lights to the back to light it up and see all of those layers and shadows so much better! I prefer to use LED light strips, but some people just use fairy lights. Either way, they go behind your layers of cardstock. I usually put my LED light strips around the edge of the frame for a nice even glow. You'll want to position the lights so your cord can hang out one corner — if necessary, cut a small notch in the corner of the frame for the cord. Now just replace the back of your display frame, plug in your light, and enjoy the magic!
Hope you liked my 3D Paper Cut Light Box. Now have a look at the challenge blog here for all the challenge details and to see the cards from the rest of the Design Team. https://themaleroomchallengeblog.blogspot.com/2021/03/challenge-148-not-card.html.